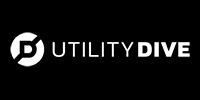 "Key characteristics" of sector leaders is that they're able fill multiple roles at once, Ricardo F. Rodriguez, research analyst with Guidehouse Insights and report author, told Utility Dive, including providing "turnkey solutions," using innovative financing, forecasting future revenue streams and using integrated software platforms.
The top distributed energy storage systems integrators now do fewer standalone integrations or "one-off" projects.
ENGIE, the company atop the leader board, has found success through a mergers and acquisitions strategy, according to Rodriguez. "ENGIE has been able to expand its product offerings through a series of acquisitions that include Green Charge, Op Terra, EV-Box, Ecova, and SoCore."
Tesla has gained ground in the industry not through acquisition, but by developing internal capabilities, according to Rodriguez. Tesla's ecosystem of software includes machine learning capabilities that enable customers to optimize energy storage and use.
Competition in the market has intensified as "the number of cities, states, and businesses committed to carbon reduction goals is swelling and the demand for onsite generation of renewable energy is mounting," according to the report.
Analysts at Guidehouse Insights evaluated players in the DES integration market using 10 criteria: geographic reach; go-to-market strategy; partnerships; pricing; product performance; product portfolio; sales, marketing, and distribution; staying power; technology; and vision.
"The recognition by Guidehouse is a testament to the hard work of the Enel X team around the world and underscores our ability to deliver customized energy solutions that meet the economic and sustainability needs of any customer," Surya Panditi, head of Enel X North America told Utility Dive in an email.