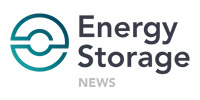 Convergent Energy + Power, a US-Canadian project developer which has attracted investment from the venture capital arm of Statoil, has acquired 40MW of flywheel energy storage already in operation in grid-balancing markets in New York State and Pennsylvania.
Rockland Capital, an investment company focused on the energy sector in North America, acquired renewables integrator Beacon Power in 2012 and in doing so created a limited liability entity, Stephentown Spindle, to develop a 20MW flywheel project in Stephentown, New York. Spindle then went on to also develop the second 20MW flywheel project, Hazel Spindle, in Hazle Township, Pennsylvania.
The former went into operation in 2011, the latter in 2014, providing frequency regulation to the transmission networks of PJM Interconnection and New York ISO (Independent System Operator), bringing Convergent's portfolio of energy storage assets in North America up to 66.5MW across seven projects.
The flywheels, which store power as rotational energy, can respond to grid signals in a fraction of the time it takes fossil fuel generators or nuclear, and do so cleanly. While not as fast-responding as lithium batteries, the wheels, in this case 400 of them weighing five tonnes each, experience little degradation over time and theoretically require less maintenance. With increasing amounts of variable renewable energy generation in North America, there is an increasing need to balance the frequency of grids. The flywheels were manufactured by RGA Investments, an arm of advanced engineering and technology group RGA Labs.
Convergent claimed the flywheels help support the local transition away from fossil fuels and towards renewable energy and also support the local grid at much less expense than the equivalent in transmission or distribution infrastructure upgrades. The company said it manages "all aspects" of development for its customers, which include utilities, grid operators and industrial entities.
read more