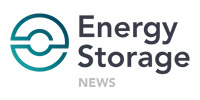 EDF Energy, one of the UK's 'Big Six' major energy suppliers, is seeking to build a portfolio of domestic batteries to take into energy services markets by offering discounted energy storage units to consumers via a new partnership with manufacturer Powervault.
The pair are offering existing solar PV owners as much as £2,000 (US$2,550) off the cost of a home battery system if they sign up to EDF Energy grid services. If taken up, this will allow the energy stored in a Powervault 3 battery to form part of an aggregated network that can be used to help balance the grid.
This pool of battery capacity will be used to support the grid at times of peak energy demand and to distribute excess energy to the batteries to store when there is more energy being generated than required.
Discounts of £1,560 and £2,060 will be available on Powervault's 4.1kWh and 8.2kWh batteries respectively until 31 March 2019, although this date is subject to change in response to demand or changes in the market
Consumers will need to sign up to a 10-year contract with EDF Energy as part of this offer, however the supplier has stressed that the grid services contract is completely separate to an energy supply contract
"The customer does not have to buy their energy, or receive the feed in tariff payments from EDF Energy," it told Current±.
On top of the savings available on these upfront costs, Powervault says customers who've installed a Powervault 3 to store solar energy can expect to save up to 50% on their energy bills.
Jean-Benoit Ritz, director of innovation and Blue Lab at EDF Energy, said: "As the UK transitions to a low carbon future, we are seeing fantastic opportunities for consumers to be involved in this journey.
read more