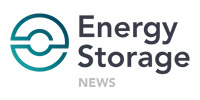 Almost exactly a year since the Nordic region's 'largest' battery energy storage system to date was announced, Saft has said that the next system to take that crown will be a project the company will work on in Finland.
Saft, the battery energy storage system (BESS) specialist fully-owned by energy major Total, emailed Energy-Storage.news today to reveal details of the project, which is being built to support Viinamäki, a 21MW wind farm in northwestern Finland.
The new project looks set to overtake the 6.2MWh battery system currently being installed at the 44MW Forshuvud hydropower site in Sweden by Finland-headquartered clean energy solutions provider Fortum, which this site reported planned details of in November 2018.
This itself leapfrogged the previous title-holder, the memorably named 'Batcave battery' (not to be confused with the similarly named Batwind project, in Scotland) also developed by Fortum, providing frequency regulation to the grid and in operation since 2017. Due to the high shares of renewable energy commonly used by Nordic countries and supportive policies, as well as the success of electric vehicle uptake (particularly in Norway) and the natural cooling impact of the region's climate that makes it a suitable location for data centres, more are likely to follow.
Saft has been awarded its latest project by Finnish wind developer and operator TuuliWatti. The 21MW battery system has 6.6MWh capacity (thereby just pipping the Fortum project by a fraction). This comprises three Saft Intensium Max 20 HE (High Energy) integrated, containerised energy storage units, each of 2.2MWh. Saft manufactures the systems in Bordeaux, France.
The Intensium Max 20 HE solutions that the project will use were launched to provide ESS applications that generally require fewer than two hours' storage discharge time. The project for TuuliWatti will perform frequency regulation tasks for the local grid, with the batteries capable of delivering 5.6MW of power for frequency regulation. The systems have an expected lifetime of 15 years.
TuuliWatti portfolio manager Tommy Riski said the Saft high-energy containers will help his company to become "the leading wind developer and producer in the Arctic region, by improving the competitiveness of wind power".
"They provide a fast response in challenging environmental conditions, as well as the energy storage capacity to support grid stability, allowing us to adjust the output of our wind farm immediately," Riski said.
read more