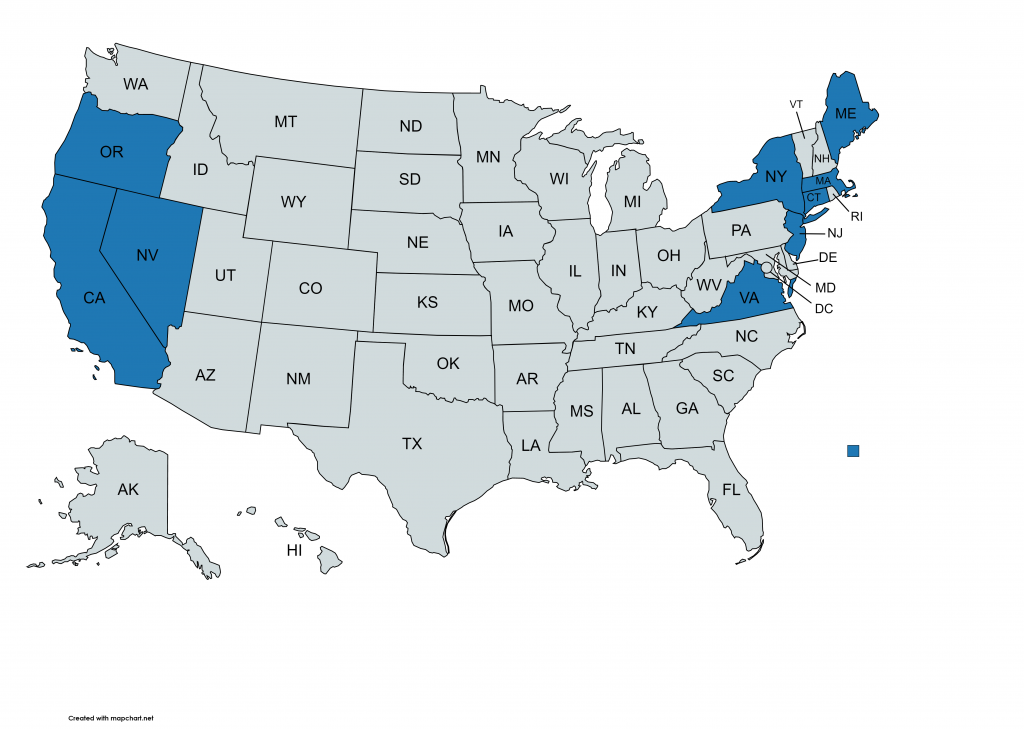 Welcome to the energy storage team Maine. We've been waiting for you. On June 22, 2021, the state of Maine became the 9th state with an energy storage target. Governor Mills signed LD 528 into law, establishing a goal of 400 MW of energy storage by 2025, and 500 MW by 2030. Let's update the team roster…
California
Assembly Bill (A.B.) 2514 (2013) directed the state's three investor-owned utilities (IOUs) to procure 1,325 MW of storage by 2020 with installations operational by 2024 (580 MW from SCE, 580 MW from PG&E, 165 MW from SDG&E).
A.B. 2868 (2016) directed the same utilities to add an additional 500 MW of additional storage to be rate-based. No more than 25 percent of the capacity could be behind-the-meter (BTM).
S.B. 801 (2018) required SCE to deploy 20 MW energy storage to meet energy reliability requirements in the greater Los Angeles area associated with the Aliso Canyon gas explosion.
Connecticut – Newly added May 20, 2021
S.B. 952 (2021) set a target of 1 GW of energy storage to be achieved by 2030. Sets interim targets of 300 MW by 2024 and 650 MW by 2027.
Maine – NEW
LD 528 (2021) set a 400 MW energy storage target to be achieved by 2025, and 500 MW by 2030.
Massachusetts
House Bill (H.B.) 4857 (2018) established a 1,000 MWh energy storage deployment target to be achieved by 2026.
Nevada
S.B. 204 (2017) directed the Public Utilities Commission of Nevada to establish biennial targets for NV Energy Inc.'s procurement of energy storage systems, starting at 100 MW by the end of 2020 and increasing to 1,000 MW by the end of 2030.
New Jersey
A.B. 3723 (2018) set targets of 600 MW of energy storage capacity within three years and 2 GW of capacity by 2030.
New York
S.B. 5190 and A.B. 6571 directed the New York Public Service Commission (PSC) to develop an Energy Storage Deployment Program, including 3,000 MW by 2030 with an interim goal of 1,500 MW by 2025.
Oregon
H.B. 2193 (2016) required Portland General Electric (PGE) and PacifiCorp to each have a minimum of 5 MWh of energy storage in service by January 2020.
Virginia
H.B. 1526 and S.B. 85 (2020) had Virginia Governor Ralph Northam signed the Virginia Clean Economy Act (VCEA) mandating a 3.1 GW energy target and a goal to achieve 100% renewable and clean energy by 2050.
Fractal Energy Storage Consultants provides technical design, financial analysis, procurement, due diligence and OE services for energy storage and hybrid projects. Contact us today for more information https://www.energystorageconsultants.com.