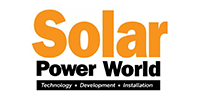 JinkoSolar released a suite of new products under the "Eagle" name this week during the virtual Solar Power International tradeshow. Both high-power solar panels and energy storage systems are on display for the first time by the world's largest solar panel manufacturer.
New panels include:
Eagle 60HM G2: 330-W half-cell mono PERC module
Eagle 72HM G2: 410-W half-cell mono PERC module
Eagle 72HM G3: 405-W bifacial half-cell mono PERC module
Eagle 66TR G4: 390-W tiling-ribbon mono module (using larger M10 wafers)
Eagle 78TR G4b: 475-W tiling-ribbon bifacial mono module (using larger M10 wafers)
This is the first time Jinko's tiling-ribbon technology has been used in panels released to the U.S. market. The company has similar modules under the "Tiger" name in China.
"Jinko's Tiling Ribbon (TR) technology is different from shingled modules. There is some overlap of cells that is facilitated by the tiling ribbon," explained Vikash Venkataramana, director of technical service and product management for JinkoSolar to Solar Power World earlier this year. "The ribbon is designed so that it can be positioned between the overlapping cells to eliminate any direct contact between the overlapping cells, removing any concern of mechanical stress. Special encapsulants are also used in the module to reduce mechanical stress."
Most interestingly is the release of lithium batteries and energy storage systems by the predominantly solar panel-focused company.
The Eagle RS1 is a 8-kW/19.2-kWh AC-coupled energy storage system. It is stackable up to 28.8 kWh and 38.4 kWh. Its lithium-iron phosphate (LFP) technology is popular among the residential market. The Eagle RS1 has a 6,000-cycle-life and is outdoor-rated. The residential system is available for orders beginning in December 2020.
read more