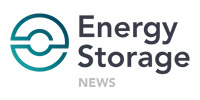 Sodium sulfur (NAS) batteries produced by Japan's NGK Insulators are being put into use on a massive scale in Abu Dhabi, the capital of the United Arab Emirates.
The company's battery systems have been deployed across 10 locations – 15 systems in total – adding up to 108MW / 648MWh in total, with each system able to store energy for six hours. The total undertaking includes 12 x 4MW systems and three 20MW systems. The official government Emirates News Agency described the project as the "world's largest Virtual Battery Plant" as it opened earlier this month.
A representative at NGK's power business division told Energy-Storage.news the 'virtual' description is correct in the sense that the 15 systems in 10 locations "can be controlled as a single plant. While of course they can still be controlled individually when local support to the grid is needed".
Critical to this aggregation of the systems is the CISC (Centralised Integrated System Controller) which will be located at a control room in Mussafah, an industrial district in Abu Dhabi's southwest where some of the battery systems are also located, with the rest in nearby Sila. CISC and the NAS systems are "ready to be operated by the TSO (transmission system operator)", the NGK representative said.
Operational parameters increased from original scope
Awaidha Al Marar, chairman of Abu Dhabi's Department of Energy, attended an inauguration event on 17 January, as a number of events including Abu Dhabi Sustainability Week and World Future Energy Summit (WFES) took place in the region.
The NGK CISC 648MWh project will help the city load balance across its networks during the daytime, as well as providing up to six hours backup in the case of grid outages. As with many energy storage system projects, it is primarily about reducing the strain on the grid at times of peak demand.
read more