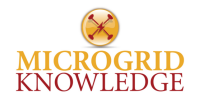 Energy storage system integrators play an increasingly important — and shifting — role as more renewable energy is added to the grid, according to a new Navigant Research report.
Integrators design, build and operate large, grid-scale energy storage systems. Think Tesla and Fluence.
In a recent interview with Microgrid Knowledge, Alex Eller, senior research analyst for Navigant Research, shed light on what integrators do and why their role is changing.
The utility-scale energy storage market has grown increasingly competitive since 2016. And as the market matures and expands, the integrators play a larger role in ensuring project success and profitability.
Integrators are transitioning away from offering pure project development services and instead are providing integrated hardware and software systems for energy storage customers. Often they leverage software and controls to maximize the value of a project, according to the report, Navigant Research Leaderboard: Utility-Scale Energy Storage Systems Integrators.
Markets shift as grid greens
The biggest energy storage market, long-term, is no longer frequency regulation because that market is becoming saturated. Instead, energy storage is increasingly used to help bolster renewable energy use on the grid. Generally, under this model, storage system integrators sign power purchase agreements (PPA) with utilities that include compensation for providing stored renewable energy released during on-peak hours, Eller says.
These agreements are becoming more common in California and the southwest US, he says. "Utilities are willing to pay more if they can control the output of the solar and use solar during night-time peaks." For example, companies capture solar for release during evening peaks. "Utilities are showing they're willing to pay a premium for that."
Click Here to Read Full Article