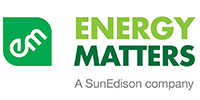 Recently completed big battery projects in various parts of the world offer a taste of what's to come in 2017 for large-scale energy storage.
Last Friday, AltaGas Ltd. officially opened the Pomona Energy Storage Facility, situated in the East Los Angeles Basin of Southern California. At 20 megawatts of electricity storage capacity, AltaGas Ltd. says it is currently the largest battery storage facility in operation in North America.
AltaGas will be able to provide Southern California Edison (SCE) with the 20 MW of  capacity for a continuous four hour period as required. This represents the equivalent of 80 MWh of energy discharging capacity; which it says is enough to provide the electricity needs of approximately 15,000 homes over the four-hour period.
"Providing energy from electricity stored in lithium-ion batteries provides clean reliable energy that complements California's renewable energy portfolio while adding to the versatility of our asset base which is well situated for pursuing other energy storage developments," said David Harris, President and CEO of AltaGas.
While the company says the project is the largest in North America, it may be a title it needs to share. Early last week, Electrek reported Tesla and Southern California Edison have completed a 20 MW/80 MWh energy storage facility at SCE's Mira Loma substation; which uses the new Tesla Powerpack 2 .
Like the new Powerwall 2, the Tesla Powerpack 2 commercial energy storage solution features twice the energy storage capacity of its predecessor and also has new inverter; designed and manufactured by Tesla.
Elsewhere, Greentech Media reports India has launched its first grid-scale battery storage system, a 10-megawatt Advancion energy storage array designed for peak load management.
In related news, India's first grid-scale solar energy plus storage tender reportedly attracted strong interest, with 13 developers submitting bids. The tender was for 5MW battery storage systems to be integrated into two separate solar energy projects of 50MW each at Kadapa Solar Park.
Over in Germany, the stage is also set for a very busy 2017. A recent study forecasts there will be a threefold increase in large battery projects this year, from around 60 megawatts last year to 200 megawatts this year.
Click Here to Read Full Article
read more