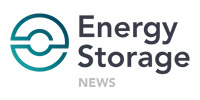 The energy industry is evolving towards more 'enterprise platform'-based business models, enabling energy storage to play a vital role for businesses and the grid, NEC Energy Solutions (NEC ES) CEO Steve Fludder has said.
NEC ES, the NEC Corporation's energy storage system integration and technology business, relies increasingly on machine learning and artificial intelligence (AI), Fludder said in an interview and presentation at last month's Energy Storage Summit in London. Fludder took over as CEO in November, replacing temporary boss Hiro Ezawa, who in turn replaced longstanding leader Budd Collins.
These IT capabilities not only give NEC ES and its partners better visibility into system operation, Fludder said, but they also enable the company and others like it to capture value across the whole marketplace, making an analogy with the way that online retail giant Amazon uses predictive analytics to stock its strategically-located warehouses with the goods returning customers are most likely to purchase.
"This concept is actually happening around us all the time. You have cars that can tell you when they need to go in to be serviced, for example. I'm quite interested in the Amazon analogy, because that's something that touches everyone every day. How do they do that? If they did that by building up massive amounts of inventory of everything that's on sale on their site, they would never make money," Fludder told Energy-Storage.News.