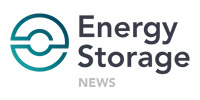 Defense and aerospace giant Lockheed Martin wants to be the first disruptive company of the flow battery era, with the expectation that its first devices will go into series production before the end of this year.
Energy-Storage.news met earlier this year with company VP for business development Dan Norton, who said that Lockheed Martin's own coordination chemistry flow battery (CCFB) had neared the end of its development and test programme, which had gone "swimmingly and as planned". The product has been some time in development, originally teased as expected to hit the market before the end of 2018, although this target was always understood to be flexible.
"We begin serial production on our unit number 1 towards the end of the year and we'll go for full launch in the market some time next year," Norton said, in an interview taped at this year's Solar Power International in late September but only cleared for publication approval later.
That in itself is an indication of Lockheed Martin's focus. The flow batteries are being developed within Lockheed's Missiles and Fire Control division, and Norton said that as an energy security asset, the technology and market is "the next logical progression" for the company.
While Lockheed has already launched GridStar lithium and seen successful deployments of over 100 units in North America, as the market moves from shorter to longer duration energy storage, Norton said, it identified a further opportunity.
"So we invested in (Sun Catalyx), a technology that's a spinout of MIT, to create a co-ordinated compound chemistry flow battery, that is human- and environmentally-safe, that is balance-of-plant cost-effective and that is deployable worldwide," Dan Norton said.
Projects could be 'multiple megawatts to hundreds of megawatts'
Long-duration flow batteries offer a potential to decouple energy and power, meaning that while they tend to cost more upfront than lithium-ion batteries, they can effectively scale up fairly easily, simply by increasing the capacity of the tanks the electrolyte is pumped through. While the small handful of flow battery companies already out there in the market tend to favour either vanadium or zinc bromine, Lockheed is keeping tight-lipped still on the makeup of the proprietary electrolyte its GridStar Flow products will use.
read more