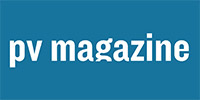 Aggreko-owned storage system experts Younicos claimed first place in the pv magazine Energy Storage Highlights award. Alexander Schönfeldt, the company's VP sales EMEA, describes this award-winning concept and reveals more details about Younicos' new rental storage system.
For the Energy Storage Europe Exhibition and Conference held in Düsseldorf, Germany in mid-March, pv magazineteamed up with Messe Düsseldorf to produce a 32-page storage special issue that led with a prestigious Energy Storage Highlights Award.
Among the many entrants, the winning storage innovation – as identified via the scoring aggregation from our independent jury – was a combined gas and battery grid services power plant by Berlin-based storage experts Younicos.
The idea of the plant is, as Schönfeldt says, to give aged gas plants a second life via the support of battery storage. "It enables plant owners to respond to requirements in the market with the battery, and for the gas engine to respond in the capacity market with secondary reserve."
At the Energy Storage Europe Exhibition, Younicos was also showcasing its new rental storage-as-a-service model, which Schönfeldt described as an innovative way to "unlock the storage market in a way that customer's do not have to worry about investment hurdles or technology risk."