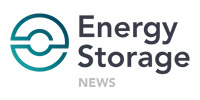 At the beginning of this year, two battery storage systems went into operation in England which add up to 50MW of energy storage and deliver a significant percentage of total enhanced frequency response (EFR) contracts awarded in the UK through tenders by the transmission operator, National Grid.
Solar Media is proud to have been asked by technology provider NEC to publish a guide in the form of a case study, which goes in-depth on the 10MW Cleator and 40MW Glassenbury projects the company's Energy Solutions division worked on for customer VLC Energy.
VLC Energy's leadership includes prolific UK renewables developer Low Carbon and you can hear directly from the customer what was needed, what the challenges were and why NEC was the perfect fit, bringing in equipment and cutting-edge technology – both hardware and software – and choosing the right contractors for the grid connection and civil works portions of the project.
NEC Energy Solutions CEO Steve Fludder takes you through why he believes the energy industry is rapidly, through digitalisation and the growth of renewables and distributed energy resources (DERs), becoming a service-led proposition.
"The transformation of the electric power infrastructure all around the world is really unprecedented, because it impacts everyone and everyone will be engaged. The future is about multiple constituents and multiple flows of energy and multiple ways of really delivering cleaner, more reliable electricity through technologies and digital platforms, managed as an enterprise as opposed to managing a one-way flow of electrons," Fludder says in the guide.
"We're focused on all of the new technologies and solutions that will make this transformed grid that's going to be majority renewable, in some cases totally renewable…I see storage as a central part of many types of energy system that allow other things to happen."