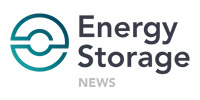 Reports of Eos' aqueous zinc battery being paired with small modular nuclear reactors (SMNRs) in a joint venture (JV) with Holtec appear to have been greatly exaggerated, according to an Eos representative.
Eos formed the joint venture, called HI-POWER, with Holtec International and officially launched it in September. Using Eos' proprietary battery manufacturing design automation and leveraging Holtec's scale and three decades of manufacturing experience, a "state-of-the-art manufacturing facility" has been promised in Pittsburgh. An Eos press release referred to a "multi-gigawatt" JV being created.
As previously reported by Energy-Storage.news, Eos' novel zinc hybrid cathode battery technology is priced into a system at US$160 per kWh for a 1MW / 4MWh grid-scale modular unit. Various test facilities have been deployed, including a 30kW / 120kWh DC-coupled system at utility Duke Energy's McAlpine test facility in North Carolina.
"We are very much an energy battery, a longer duration, 4-6 hours is kind of our sweet spot, but we have flexibility to do higher power and we can always derate the power to do longer run-time," Eos VP of sales, Phillipe Bouchard, told us at Solar Power International / Energy Storage International in Salt Lake City. The company also attracted former First Solar CEO Jim Hughes onto the board of directors in 2016.
"We started this partnership with Holtec over a year ago. We actually manufactured our 2.0 products out of their facility in Camden, New Jersey. So we were taking the dry battery, filling it with electrolyte, integrating it into a system, then shipping it out to our customers.
"With the gen 2.0 design, we deployed nine systems on four continents, anywhere from 1MWh-scale project and in that size range, including one in Brazil with ENGIE, which is a solar-storage-wind project with 1MWh of battery [storage]."
From here on in, Bouchard said, the JV is about "testing the product in our target use cases and in our target markets, generating really valuable data and kind of setting the stage for scale-up into much larger commercial projects."