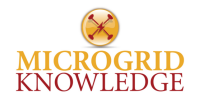 National Grid has issued an energy storage solicitation for 10 MW of bulk, front-of-the-meter storage and power marketer services that maximize the value of the storage in key locations in upstate New York.
The request for proposals (RFP) seeks distribution rights to energy storage that enhances grid reliability and resilience and contributes to achieving the state's distributed, zero-carbon, renewable energy and climate change goals, according to the investor-owned utility.
Projects need to be able to reinforce distribution grid reliability during periods of peak demand. They also must participate in the New York Independent Systems Operator's (NYISO) wholesale power market, or yield other revenue streams that offset costs. The goal is to reduce customers' bills.
Four locations within National Grid territory
National Grid seek projects in four locations within the territory served by its subsidiary Niagara Mohawk Power: Old Forge, North Lakeville, Menands and the New York Independent System Operator – Zone F area.
Pre-qualification eligibility documents are due by October 31. Fully completed proposals are due by 5 p.m. December 20 and the projects need to be operational by Dec. 31, 2022.
The utility is carrying out the energy storage solicitation in accordance with the New York Public Service Commission order that requires investor-owned utilities to procure at least 10 MW of energy storage capacity so long as costs don't exceed a ceiling defined by the utility (PSC Case 18-E-0130).
Winning projects may qualify for financial incentives and support that runs as long as seven years via the New York State Energy Research and Development Authority's (NYSERDA) Bulk Storage Rights Contract program. Projects receive a fixed revenue stream, as well NYSERDA's help maximizing distribution and wholesale system benefits for utility customers.