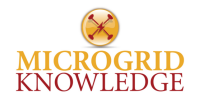 A new microgrid serving Kings Plaza shopping mall in Brooklyn, N.Y. kept operating through a Consolidated Edison (ConEd) blackout last summer and helped the utility restart after the outage.
The microgrid consisting of oil and gas fired engines was completed in May after the owners decided to convert a 12-MW stand-alone power system to a system connected to the grid, said Mike Byrnes, senior vice president for Veolia's municipal and commercial business and CEO of Veolia's Source One business. Veolia provides waste, water and energy solutions in an effort to boost its clients sustainability. Source One is an energy consulting firm serving commercial, industrial and municipal organizations.
With the new microgrid, the 1.1 million square foot, 50 year old mall participates in income-earning demand response events, boosts resilience and improves efficiency, said Byrnes. The payback on the mall's multi-million dollar investment is about five years, he said.
Over the summer, after a ConEd blackout in Brooklyn, the microgrid kept serving the mall and helped the utility restart operations. "We were one of the first to give grid support when ConEd turned back on," said Byrnes. "When you go back on, more points of power going into the grid makes it more stable."
The project has its roots in the 1970s, when Kings Plaza's owners built a stand alone power plant. At the time, ConEd's distribution system couldn't meet the energy requirements of the mall.
Motivated by demand response
"You had to pay ConEd to connect to the grid, or build your own plant," he said. "Many chose to build their own plants."
The Kings Plaza system at the time consisted of four units, 3 MW each, powered by natural gas and diesel. They provide central chilling and heating.
"It wasn't quite a microgrid at that point," said Byrnes.