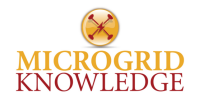 A solar-plus-storage microgrid in Lebanon is demonstrating a way the country can overcome its pollution and lack of energy access while boosting economic development.
For a month running, Recycle Beirut and an adjacent residential building have been receiving all of the electricity they need with a microgrid that uses 100-kW of solar and a 100 kWh battery energy storage system.
Small as it is, the microgrid's benefits are large.
Lebanon depends on fossil-fueled generators and experiences regular power cuts that can last as long as 12 hours, according to Florian Stark, project manager at Firebird Energy, which built, operates and maintains the microgrid in partnership with Recycle Beirut.
"Those power cuts are obviously slowing down economic development since there's a lack of electricity, and it's produced by diesel generators that produce a lot of air pollution," Stark told Microgrid Knowledge.
Joining with a group of Chinese solar, battery energy storage and microgrid software developers, Firebird and Recycle Beirut began designing the project in the spring of 2018. They purchased equipment last summer and installed the project between March and June this year.
"Since June 2019 the system has been operating without any interruptions or trouble," Stark said.