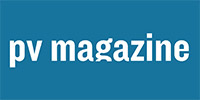 Cypress Creek Renewables has commissioned 12 solar power systems coupled with 12 megawatt-hours (MWh) of batteries, as a project that will serve the 100,000 customers of the Brunswick Electric Membership Corporation in south-east North Carolina.
The energy storage hardware is being provided by Lockheed Martin in the form of their 100 kW/200 kWh to 500 kW/950 kWh GridStar Lithium Ion energy storage system (PDF).
The press image provided at the top of this article suggests two Lockheed GridStar units in the particular installation, and if the installations are similarly designed, that would mean 1 MWh total energy storage per installation. That suggests the units deployed might be the 250 kW/500 kWh GridStar variants (if they do in fact have that exact sizing).
A tweet showed a second project with two GridStar units:
A source told pv magazine that the sizing of these projects will increase their annual output by 5%. This excess electricity generation aligns with project comments that the electricity from the batteries and solar will be used to reduce peak electricity costs and create dispatchable solar resources.
Another major solar power developer is also pushing energy storage heavily into their solar power projects: NextEra and its subsidiary Florida Power and Light.
read more