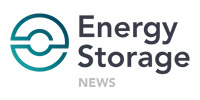 Wärtsilä remains tight-lipped on the exact location of a hybrid power plant 100MW / 100MWh energy storage in Southeast Asia which will "leverage abundant wind and solar resources".
The company has signed an engineering, procurement and construction (EPC) contract with an unnamed customer. Wärtsilä SE Asia regional director Nicholas Leong told Energy-Storage.news that the project "will help the Association of Southeast Asian Nations (ASEAN) meet its commitment to achieving 23% of its primary energy needs from renewables by 2025, and put the region on the path to achieving 100% renewables".
It is thought to be the largest battery energy storage deal in the region, which has seen very few grid-connected systems deployed, although Energy-Storage.news has reported on various microgrid projects in remote areas including a Tesla lithium-ion battery project by Solar Phillippines to increase energy security for a village prone to brownouts and a project in rural Thailand which runs on solar and a hybrid of lithium and flow batteries. Solar Philippines did say in 2017 that it would be developing a 50MWh project paired with a 150MW PV system in the country.
The project will lean heavily on the capabilities of Greensmith Energy, the battery energy storage system integrator Wärtsilä acquired in 2017. This includes Greensmith Energy Management (GEMS) software platform and its GridSolv-brand standardised energy storage hardware solution.
Wärtsilä is touting the role of combined renewable energy-gas engine-battery energy storage hybrid power plants, with group VP for Europe Melle Kruisdijk recently telling this site that the company's legacy technology can therefore complement and enable renewables.
Despite its strong grounding in building gas engines, initially for large ships and then later for land-based applications, the Finnish company is pushing a "100% renewable energy vision" which Kruisdijk outlined in that interview. Greensmith's system integration capabilities are as central to that premise as their ability to put batteries into energy networks, Kruisdijk said.