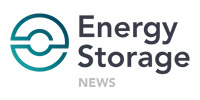 Germany company Voltstorage, claiming to be the only developer and maker of home solar energy storage systems using vanadium flow batteries, raised €6 million (US$7.1 million) in July.
Voltstorage claims that its recyclable and non-flammable battery systems, which also enable long cycle life of charging and discharging without degradation of components or electrolyte, can become a "highly demanded ecological alternative to the lithium technology". Its battery system, called Voltstorage SMART, was launched in 2018 and comes with 1.5kW output and 6.2kWh capacity. At the time of its launch, company founder Jakob Bitner claimed that Voltstorage had been "the first to automate the production process of redox-flow battery cells," enabling the production of "high-quality battery cells at favourable cost". The company also claims that around 37% less CO2 is emitted in the production of its systems versus comparable lithium-ion storage.
There has been great interest and discussion around redox flow batteries using vanadium electrolyte around the world at grid and larger commercial scale, although actual deployment figures have not yet begun to eat into the dominant existing market share held by lithium-ion. For domestic use, meanwhile, only Australia's Redflow, which uses a zinc bromine electrolyte chemistry rather than vanadium, is widely reported to be targeting the home storage market – along with commercial and industrial applications as well. However, Redflow discontinued a 10kWh product specifically targeted at the residential space in May 2017 and the majority of its focus is on those other segments, although it makes its modular ZBM-branded systems available to larger residential users. Industry analyst Julian Jansen at IHS Markit had told Energy-Storage.news at the time of that discontinuation that it seemed "highly unlikely that flow batteries will succeed as a viable competing option to Lithium-ion based systems in the residential market outside of very specific niche applications".
Existing investors in Munich-headquartered startup Voltstorage put in money once again, including family-owned investment company Korys, Bayer Capital – a subsidiary of Bavaria's development bank – and EIT InnoEnergy, a European accelerator investor in sustainable energy and related innovation.