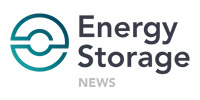 The new CEO at VRB Energy, a maker of vanadium redox flow battery energy storage devices, claims that ongoing improvements to its technologies will allow it to outcompete lithium-ion energy storage in the coming years.
VRB Energy said this week that Dr Mianyan Huang, a leading expert on vanadium flow battery technology and chief technology officer (CTO) and president of its China-based subsidiary has been promoted to chief executive officer (CEO).
Huang – who VRB said has 12 "key" flow battery material and system design patents to his name – actually took over on 1 July from previous CEO John Wang, but the announcement has been left until now. Wang had been in the role since late 2017 and came from a management consulting and technology background.
Additionally, the company announced that Dr Huang has been overseeing testing for the company's forthcoming Gen3 cell stack design. VRB claimed that it enables a 30% increase in energy density, based on proprietary components developed in-house by the company including membrane and bipole materials. It also features improvements in electrode and cell frame design, the company said.
"This testing shows that our Gen3 technology will be able to achieve a 10% improvement in overall efficiency while simultaneously reducing battery size and lowering cost for our customers. This is just one of many improvements that will enable us to deliver a complete energy storage system for less than forecasted lithium-ion battery pricing, and with 15-40% better levelised cost of energy (LCOE) performance," the CEO said.
Redox flow batteries allow for the decoupling of energy and power within the cell stack, meaning that to increase capacity and storage duration the tanks of electrolyte that store energy simply need to be scaled up and that repeated cycling does not cause degradation of cells. Meanwhile the technology's proponents claim it poses less fire risk and features more easily recyclable components than lithium-ion.