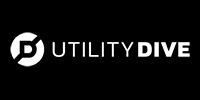 While the utility has more in store to upgrade the island's electrical infrastructure, National Grid has started exploring the possibility of using "that battery for something else during the times it's not used for contingency," Wynter told Utility Dive.
The utility partnered with the Department of Energy's Pacific Northwest National Laboratory to model and think through other applications for the storage, such as potentially bidding it into the ISO-New England markets. The lab is doing an "extensive amount of research on large scale transmission and battery networks," Wynter said.
"They model things for us like the battery's performance on the island … and how well we think we're going to improve customer uptime because of this battery in place … and how can we model the use of this battery in providing frequency response and other services."
Tesla declined a request for comment about the long-lasting battery's applications.
There are two subsea cables bringing power from the mainland to Nantucket. A third cable would have meant close to a $200 million investment, Wynter said, compared to the $81 million hybrid solution.
"It's not a long run [from mainland Massachusetts to Nantucket] but it is complex doing subsea cable," Wynter said. "There's substantial savings for customers."
National Grid also replaced an older diesel generator on Nantucket with a 15 MW unit for a hybrid resilience solution.
"The whole system can operate almost in tandem," to extend the eight-hour duration in case of subsea cable failures, Wynter said.