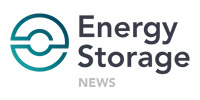 A 4.8MW / 16.4MWh battery energy storage system supporting the local grid of utility Con Edison in Brooklyn, New York, has begun operation through Enel X and global real estate firm Related Companies.
It's not the biggest battery project so far in the state, which is newly embued with full-on low carbon energy transition policy ambition – the state wants to go use 100% renewable electricity by 2040 – and has an energy storage target of 3GW by 2030 to match.
That accolade currently is held by developer Key Capture Energy's 20MW lithium-ion system supplied by NEC, which Energy-Storage.news took an in-depth look at back in September. While New York has long been discussed as a region of huge potential for energy storage, the market has been relatively slow to take off for reasons including a need for stringent safety regulations in the state's many densely populated urban centres.
The 16.4MWh front-of-the-meter (FTM) battery energy storage system (BESS) deployed by Enel's new energy spin-off Enel X is, however, the largest in New York City so far, Enel X said in a release today. Hosted by Related Companies at one of its properties in East New York, the batteries will help support Con Edison's grid in times of peak demand. Con Edison said in July that it is seeking 300MW of energy storage of at least four hours duration.
Perhaps the more important 'bigger picture' aspect of the BESS' switch on in Brooklyn, is that it is the latest piece of the feted Brooklyn-Queens Neighbourhood Program (aka Brooklyn-Queens Demand Management Program), which is an initiative designed to use demand response, energy efficiency and related technologies including BESS and virtual power plants via aggregated behind-the-meter (BTM) resources to relieve grid congestion in the area.
Investment in the programme, which since 2016 has also included 13MWh of storage from Green Charge (now ENGIE Storage) could potentially save big money on the need to upgrade transmission and distribution infrastructure. The programme already led to the deployment by Enel X of a solar-plus-storage microgrid at the Marcus Garvey Apartments. Meanwhile, Enel X claimed that the novel lease arrangement between Related Companies, Enel X and Con Edison could be widely replicated to help the state meet its clean energy goals.