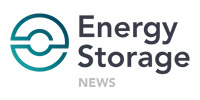 NEC Corporation representatives have said that while the domestic market opportunity for battery energy storage remains fairly small for the Japanese company, it is expected to "increase dramatically" within the next three years at commercial and industrial (C&I) and utility-scale.
NEC is one of the world's biggest players in energy storage systems via its Massachusetts-headquartered Energy Solutions division in the US. It has delivered battery systems technology for more than 10 years since it was originally formed from the acquisition of the relevant department of A123 Systems, and has deployed more than 900MW globally.
Recent projects include a crowdfunded 12MW project in the Netherlands – thought to be the country's largest to date – and some of New York State's first utility-scale front-of-meter batteries for developers. The majority of that 900MW is thought therefore to consist of NEC's Grid-Scale Solutions (GSS) kit; the company's containerised, large-scale energy storage product.
However in its parent company's homeland, the strategy is very different. Unlike many other advanced economies with built-out grid infrastructure, Japan is yet to launch opportunities or market frameworks for fast-acting battery assets to deliver frequency response and other ancillary services.
Although a few specific regions such as the northern island of Hokkaido have issued requirements that new renewable energy projects come with some energy storage attached as a means to preventing grid congestion, for the most part, large-scale batteries as a means to integrate renewables are not considered economically viable either in Japan at this stage, according to various sources.
Initial focus on industrial and commercial, with grid-scale to follow
For now, in Japan, NEC Corporation is focusing much of its energy storage sales activity on its Distributed Scale Storage (DSS) product that it launched just over a year ago, in February 2019. Aimed at commercial and industrial (C&I) customers, the units go from 40kW / 90kWh to 240kW / 540kWh and are integrated all-in-one with power converters and built-in connectors for ease of installation. Up to five units can be combined, allowing for 2,700kWh maximum capacity and 1,200kW maximum power per install.