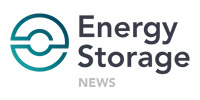 Australia's strong and ongoing potential for energy storage paired with solar PV has seen international and domestically-headquartered companies race to gain market share.
China-headquartered global solar inverter supplier Sungrow and domestically-headquartered battery storage company RedEarth Renewables have been among those sending releases and announcements to international press to coincide with the All-Energy Australia trade show taking place last week.
Targeting further residential gains, Sungrow struck a 100MW distribution partnership agreement with Australian distributor Prosun Solar, with the deal apparently signed and confirmed at the show last week.
The inverter company claims to already have more than a 10% share of the Australian residential market and is looking to deliver products that include user-friendly residential hybrid inverters, and all-in solutions that include battery as well as hybrid inverter. This enables "not only maximum yields but also optimum charging and discharging capabilities," the company, which showed off a range of PV inverters from 2kW for 10kW for household use at the show, claimed.
On top of that, in addition to its range of commercial PV inverters including the 1500Vdc string inverter SG250HX, Sungrow also showcased the ST556kWh-200UD energy storage system (ESS) solution, developed through its joint venture (JV) company, Sungrow-Samsung SDI.
Meanwhile, locally-headquartered company RedEarth Energy Storage said a few days ago that it has attained approval for its product the SunRise Home Battery system, from the country's national Clean Energy Council.
This makes it the first product on the Council's approved list of all-in-one battery energy storage system (BESS) inverters to be made by an Australia headquartered company and manufactured within the country. This makes the outdoor-rated plug 'n' play battery system eligible for "all government grant and subsidy programmes," RedEarth said in a release.