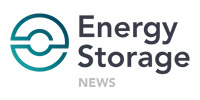 Adding well-optimised energy storage to solar PV projects in the US state of Massachusetts can increase project revenues by up to 50%, Stem Inc has claimed, as the energy storage provider announced the completion of a front-of-meter solar project with 8MWh of storage.
Energy-Storage.news reported last July as Stem Inc announced the formation of a partnership wth private equity firm Syncarpha Capital to develop 28.2MWh of energy storage projects colocated with solar PV in Massachusetts. This week Stem Inc, which touts the artificial intelligence (AI)-driven capabilities of its storage systems, said that the project is the first of five from the pair to be completed.
The just-completed project, in Blandford, near Springfield, MA, is one of four AC-coupled front-of-the-meter projects Syncarpha and Stem are collaborating on, with one DC-coupled project rounding off the portfolio. PV generation capacity of the Blandford site is just under 5MW, Stem said. It also marks Stem's first project as an independent power producer (IPP). Syncarpha Capital meanwhile has also struck a deal with ENGIE Storage for a 19MW / 38MWh community solar-plus-storage portfolio in the state, for which ENGIE will supply storage and control systems.
Energy storage deployment in Massachusetts has been driven by a number of supportive policies. The state has a target in place to deploy 200MWh of storage by the end of this year and 1,000MWh by 2025. In a recent interview, Jason Burwen, policy director of the national Energy Storage Association told this site that the state's leaders, including Governor Charlie Baker, have chosen to pursue that target "not through a single energy storage policy" but "through distributing energy storage into many different programmes and feeding it through those" in an interview on state-level targets for storage published this week.
One major programme is the Solar Massachusetts Renewable Target (SMART) scheme, which incentivises solar installations with rebates and sets a 3.2GW target for PV. SMART now also stipulates that solar PV systems over 500kW need to be combined with storage, with an increased incentive added to match.