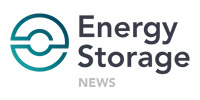 Editor's note: You may have already watched the recent webinar on ultra-capacitors and the role they could play in the energy transition, which Energy-Storage.news hosted with sponsors EIT InnoEnergy, the European Union-backed energy tech innovation accelerator.
In that webinar, market analyst Thomas Horeau of Frost & Sullivan explained that one of the key uses of ultra-capacitors in the renewable energy industry is in 'feathering' wind turbines: providing short bursts of stored power to correct the angling of turbine blades to optimise their performance or conversely to prevent damage from high winds.
Also taking part in the webinar was Egert Valmra, product director of ultra-capacitor manufacturer Skeleton Technologies, which supplies devices to wind farm operators for this very purpose. Valmra said that when he first joined the company just over six years ago, he wondered why pitch control for wind turbine blades was necessary.
I was told that if windmills get disconnected from the grid and have less resistance, they can spin out of control. In that moment, it's crucial to quickly change the pitch of the blade… so that less force is applied," Skeleton Tech's EgertValmra said.
The two options for changing the pitch of the turbine blades are to do it hydraulically or electrically. Hydraulic solutions, Valmra said, require "a little bit too much maintenance". Meanwhile the servicing costs of using batteries for this role and "replacing them every couple of years mean the servicing costs are too high".
While Egert Valmra gave the viewers a brief and succinct explanation of wind turbine pitch control or feathering using ultra-capacitors in the webinar, this week, we asked the webinar's main presenter, Johan Söderbom, EIT InnoEnergy's thematic leader for energy storage and smart grids, to go into a little bit more detail on the connection between wind power and ultra-capacitors, as follows: