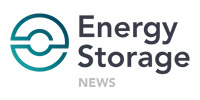 There could be 10 guiding principles for integrating energy storage as a vital "pillar" of the energy transition, a private members' and stakeholders' meeting by Bundersverband Energiespeicher (BVES), a national trade organisation in Germany has proposed.
Valeska Gottke, communications and markets representative for BVES, told Energy-Storage.news that the overall strategy and concept are still going through further development, refinement and discussion and will likely not be published in full until after the Energy Storage Europe trade event taking place in Dusseldorf, Germany, in mid-march.
Nonetheless, Gottke said, it was clear to attendees at the BVES 'conclave' event held in Dresden this week that the energy storage industry should have a "natural interest in applying energy storage systems to receive energy [reliably] from climate-friendly sources".
It should also be recognised that as a set of technologies that can aid with and enable system-wide integration of resources, energy storage systems (ESS) are "'connectors that bring flexibility to every system," Gottke said.
On the clear understanding that it therefore remains a work in progress and should be considered in this way, BVES shared 10 guiding principles that could or should help integrate energy storage as the "fourth pillar" of the energy transition (known in Germany as 'Energiewende'). The other three pillars are the production, consumption and transport of energy.
Germany's energy system in 2030 should be "decarbonised, safe and secure", BVES said in its statement on those 10 principles, which, in brief, are as follows:
Germany's EEG, the surcharge payments through which the country, including the general public via a line on their energy bills, pays for green energy policies, should no longer be the "main legal basis" for the energy system by 2030, as it is now.
A definitive pricing system for CO2 should be applied, in all sectors, on a strict "polluter pays" principle.
Energy storage should be recognised as the fourth pillar of the energy transition.
There needs to be better "transparency" or cross-sector unification between the electricity, mobility and heat sectors. Attendees at previous Energy Storage Europe shows – or indeed readers of Energy-Storage.news' coverage – will be aware that this 'sector coupling' principle has been discussed at a high level for a while now, far in advance of that seen in most other markets.