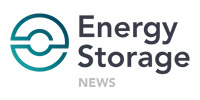 It will be in the interests of more or less everybody involved in the "broader lithium-ion battery supply chain" to establish effective recycling ecosystems, according to an analyst with IHS Markit.
Recycling was among the big topics covered at this week's Energy Storage Virtual Summit hosted by our publisher Solar Media's events division. The majority of lithium-ion batteries used in stationary energy storage for solar, back up power or grid-balancing services have only been in operation for a relatively short amount of time, but consideration is being made for the future when a large number of systems begin reaching their end of life (EOL).
Chloe Holzinger, a senior analyst for energy storage at the research company, said during a presentation on the present and future prospects for recycling lithium batteries that stakeholders involved in everything from raw materials to component and equipment production, as well as end users, will have a keen interest in the possibilities for recycling.
Raw materials and cathode producers in particular might see recycling as a potential extra revenue stream, while their direct competitors might be recyclers that also begin to produce cathode materials directly. Given the low volumes of batteries available for recycling ahead of 2030, policy and regulations to encourage and foster recycling ecosystems would be helpful, Holzinger suggested.
Holzinger's colleague at IHS Markit, Youmin Rong, who is a senior analyst in clean energy technology, said that the company is forecasting that 600GWh of batteries will reach their EOL by 2030 across electric vehicle, grid storage and portable electronics segments, and more than 2.5TWh by 2050.
The growth in the automotive sector's demand for batteries alone will make it "essential to have a recycling industry," Youmin Rong said, adding that since electric cars and stationary energy storage systems will require cells with vastly more capacity than the types of cells found in portable electronics like smartphones, an "an industry of recycling for large-scale lithium-ion is needed today more than ever".