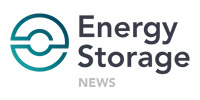 Did you know that batteries often have over 80% of their life left when they're thrown away? This misunderstanding of the potential battery technology is unsustainable and wasteful. Imagine if your car broke down, you wouldn't scrap it, you'd try and get the broken parts repaired.
What's more, batteries can help support the growth of developing regions. Of course, they are an essential part of any green revolution, providing energy security when using intermittent sources of power such as wind or solar. But the opportunity for positive impact is even greater in developing regions, where energy security is directly linked to local development.
In 2016 Aceleron Co-founder Carlton Cummins and I set about finding a solution to reduce battery waste and making energy storage solutions more accessible to people in developing regions.
Reducing battery waste
Traditional lithium-ion batteries are welded or glued together, making individual components difficult to replace. If one part fails, the whole battery stops working and is usually thrown away – often with the majority of their potential left unused.
In response, we developed and patented a battery technology design that enables the batteries to be repaired, upgraded and reused when no longer suitable for their first life, thus reducing battery waste.
Manufactured in Birmingham in the UK, the simple assembly technology facilitates the easy replacement of components, which is coupled with advanced machine learning technology that can tell which components are faulty. This means a battery can function for up to 25 years, just like you could keep a car running for 25 years with appropriate maintenance and servicing.
We are early on in our journey, but we are selling battery packs in the Caribbean, UK and Kenya and we are definitely seeing an increase in global demand.
Supporting developing regions
Early on, we decided that our battery business should not only be a world leader in sustainable battery technology, but also have a positive societal impact, improving the lives of as many people as possible.
One exciting project currently taking place is in Kenya, where we are repurposing 'dead' solar lamp batteries into battery packs for a price similar to lead acid batteries. The work involves taking apart old battery packs, comprehensively testing all the components and building repurposed batteries.