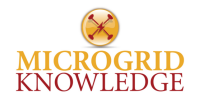 It's been slow to come, but lawmakers are increasingly incorporating microgrids into climate strategies, a focal point for Democrat politicians in both chambers. The carbon-reduction roadmap released this week by the US House Select Committee on the Climate Crisis offers a case in point.
Called "Solving the Climate Crisis," the plan seeks net-zero emissions by 2050 through a multi-decade strategy to drastically reduce emissions, heavily invest in clean energy technologies and resilient infrastructure, and prioritize environmental justice and equality.
Subtitled the Congressional Action Plan for a Clean Energy Economy and a Healthy and Just America, the report clocks in at a hefty 547 pages and is arguably the most comprehensive and earnest strategy to address climate change ever introduced by political leaders in the US.
While flashier proposals like putting a price on carbon or the blueprint for a national supergrid are already gaining a lot of attention, the report also highlights microgrid development and deployment as a key part of its energy, community, and resilience strategies.
Microgrids are noted throughout for their ability to reduce reliance and strain on the centralized grid; smoothly integrate a range of cutting-edge climate technologies; and provide resilience for critical infrastructure, communities, homes and businesses.